Web Analytics WordPress Plugin
Installation
These are the installation instructions for wordpress.org's software. These aren't the instructions for wordpress.com. Read up on the differences between wordpress.org and wordpress.com here. To install the plugin on a wordpress site, either:
Add the plug-in via your WordPress admin plugin section
Upload the .zip file using the plugin installer
SFTP the files over to your wp-content/plugins/ directory
And activate it after successful installation.
Configuration
We have created a Wordpress plugin for easy installation of Opentracker Web Analytics on a Wordpress site. You can search for this plugin in the plugins section. Take a look at our video to see all the steps.
To make the plugin work correctly, you need to enter your registered site name, that you created when making a trial.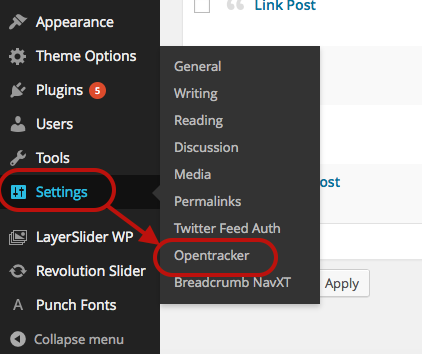 You can set the sitename under Settings -> Opentracker
You will need to enter your site name as you registered it with Opentracker (without the http:// part). If you have not done so yet, you can register your site for Opentracker's free web analytics trial here.

Download
This is the location of where to obtain the plugin: https://wordpress.org/plugins/opentracker-analytics/